Here I am unboxing the MP11 and I already have my weights out.  Why take it out if I have bought another train wreck?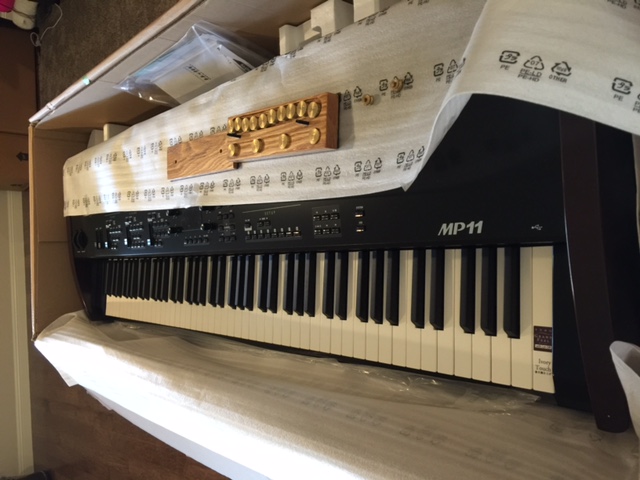 Here are the down and up weights for three of my actions:
MP11
C0: 68,43 = 111
C3: 59,33 = 92
C5: 52,32 = 84
And my preferred AP (Steinway A:
"Alice"
) is:
C0: 52,22 = 74
C3: 47,22 = 69
C5: 43,30 = 73
Yamaha Motif XF8
C0: 69,42 = 111
C3: 67,38 = 105
C5: 69,35 = 104
I set the MP11 up and plugged it in.  I then gave it to my wife for her to play.  At first, the Concert Grand 1-1-A (reset to factory settings) was to bright for her so I adjusted the Brilliance down to -5 and she liked it.
She went away and while she was away I dialed in the Mellow Grand 1-1-C and set the Touch weight to "Light+" and she sat down to play it...  30 minutes later after taking off the head phones she said: "
That's fun!  That is the first time I have been able to play a keyboard where I can get expression out of it like Alice!
 I think she is sold on it.
More details to follow soon.  I will be beating it up tonight and will report back in the morning.